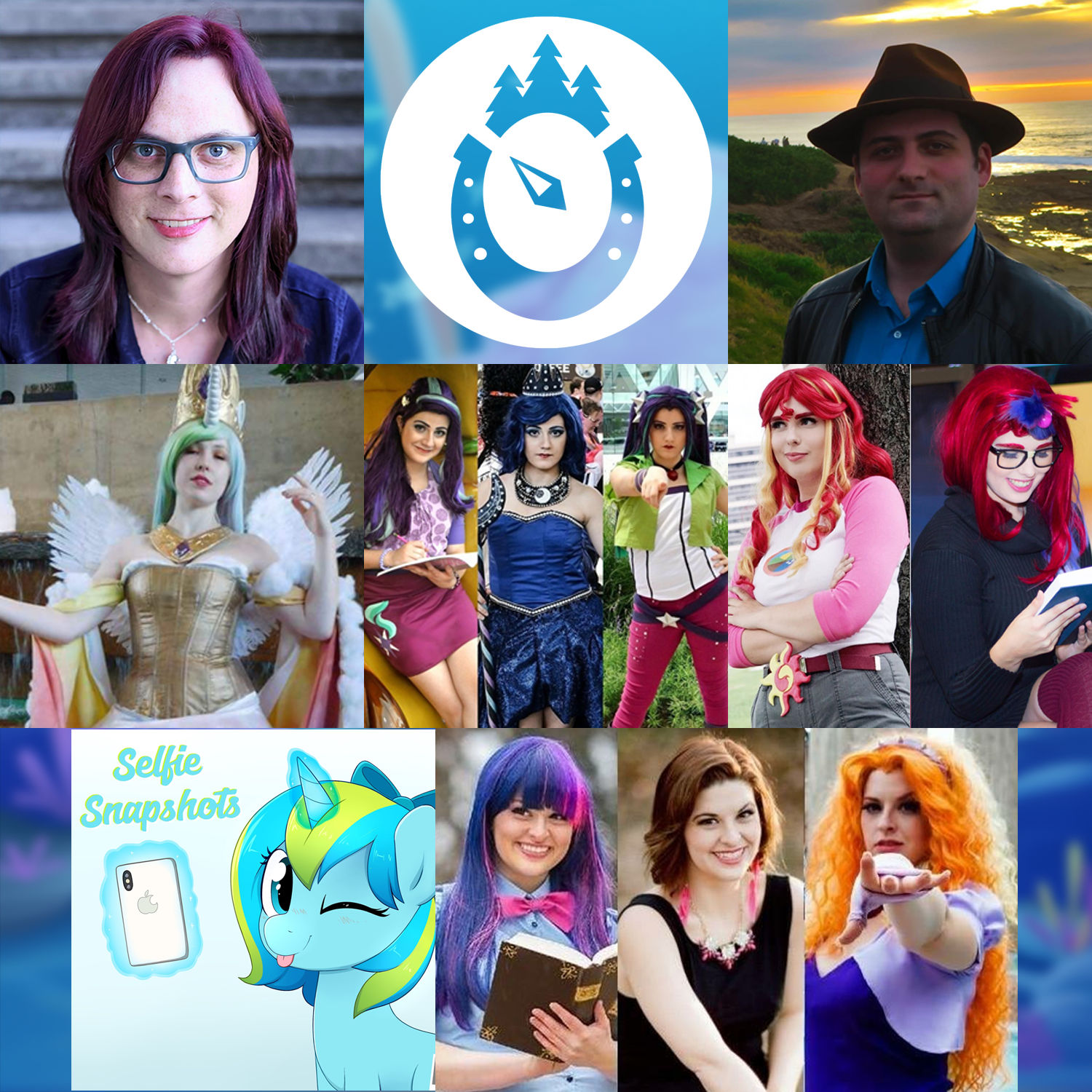 Is everypony ready for some exciting news? We're happy to announce some of our lovely and talented community guests! These people join us from all over and are very excited to meet you all in May, so check out each one below to learn more about each of them and their awesome talents!
Dana Simpson is the cartoonist responsible for the syndicated comic strip, and graphic novel series, "Phoebe and Her Unicorn." Before that, she drew the popular webcomic "Ozy and Millie." She's also a Seattle native, and was an Everfree Northwest staff artist for three years (she created EFNW's visor-wearing mascot Front Page).
Igor (MyLittleTies), as a fan of the show since late 2011, has two long term goals in the fandom. The first is to create fashionable formal-wear accessories with which to allow ponies to be brought into nearly any working environment, and through this to ever so slowly elevate the fashion of the fandom at large. This may be a slow process, but it's certainly a worthwhile one. Now with the addition of two lasers, the inexhaustible pursuit of lasering ponies on all sorts of things is in full swing as well.
The second is, accepting the inevitable AI singularity and our eventual cybernetic overlords, to help make sure that there is pony present there as well. To this end, he has built a virtual reality simulation of Ponyville, with close to a hundred AI ponies, and a slowly expanding series of quests. A demo of this fledgling virtual world will be running at his vendor hall table via an Oculus Rift and the magic that is modern technology. Donning the headset it is possible for anyone to temporarily abandon their current existence and take on the form of a diminutive equine avatar.
Selfie Snapshots aka The Selfie Pony is Everfree Northwest's legendary Selfie taking horse.
Selfie is on her 10th "Selfie Quest" as she returns to her home con.
If you find Selfie wandering around the con obtaining selfies, don'tbe shy. Everypony is welcome to help with the Selfie Quest, and everypony who helps gets a "Selfie Card" with their Selfie Number so they can find it online via Twitter, @TheSelfiePony.
The ever-shimmering Titania is a passionate cosplayer and aspiring voice actress. Some of her favorite cosplays include Sunset Shimmer, Princess Celestia, and Sonata Dusk. Originally from Seattle, Titania travels across the country for different pony conventions, and she is the performer for BronyCon's mascot, Mane Event. She has participated in the Grand Galloping Gala in 2015 as Queen Chrysalis, and she has performed in a multitude of panels alongside Shelbeanie and Sarahndipity. She also has done a few fan voice acting projects and cover videos. When she isn't working intensively on cosplay, she is either admiring every shibe doge on earth, dyeing her hair crazy colors, or just being your friendly neighborhood spoop. To learn more about Titania, check her out on Facebook, Instagram, and Twitter @TitaniaSpade.
Sarahndipity, a licensed cosmetologist and multi-fandom cosplayer, prides herself on being a mermaid, making puns, and being completely composed of glitter and sprinkles. You may recognize her as Pacific PonyCon's Mascot, Silver Strand, Everfree Northwest's official Pinkie Pie and Aria Blaze character performer, and as the Pinkie Pie MC for BronyCon's Grand Galloping Gala for almost four years running. Her proudest cosplay accolade is winning the Judge's Award for her Princess Luna cosplay at Soundwave Mini-Con in 2016. Her love for cosmetology, acting, makeup, and styling wigs all cater to her passion for making costumes. She also enjoys presenting panels at conventions across the country centered around these topics. In her spare time, when she is not working on costumes, she enjoys painting, writing, and crying over floofy puppies. If you wish to know more about Sarah, check her out @sarahndipity212 on Facebook, Twitter, Instagram, YouTube, and Patreon!
Maddymoiselle is a passionate cosplayer, actress, and life-long pony lover! Some of her favorite ponies to cosplay include Sunset Shimmer, Moondancer, and Princess Cadance. Maddy feels so very fortunate to have been able to travel across the country attending and performing at different pony conventions - you may recognise her as Pacific Ponycon's mascot Mission Belle, as Everfree Northwest's official Sunset Shimmer, as Pinkie Pie from Bronycon's 2017 Grand Galloping Gala, or as a variety of other crazy characters in many different panels! When Maddy isn't busy working on costumes she loves to take way too many selfies, pretend to be a princess, and cry over cute animals. To find out more about Maddymoiselle, check her out on Facebook as "Maddymoiselle", her Instagram @maddy.moiselle, or her Twitter @maddy_moiselle!
Shelbeanie Cosplay is an avid cosplayer, actress, and life long lover of ponies! Known for her many My Little Pony, Princess, and Gravity Falls cosplays, Shelbeanie has been sewing and designing costumes for half of her life. Among some of her favorite cosplays to date are Adagio Dazzle (with Sarahndipity and Bloo) and Princess Twilight Sparkle. She has a degree in music and a love of voice over work, which she frequently uses through various youtube and live stage work. Shelbeanie is an active member of Realtime Fandub and a part time Princess. In her free time she enjoys promoting the magic of friendship and snuggling her sugar gliders.
More community guests are coming soon, so stay tuned!